2005 R52 S Convertible and Bluetooth
02-03-2014, 08:56 AM
Join Date: Feb 2014
Posts: 2
2005 R52 S Convertible and Bluetooth
---
I have a wonderful '05 cooper S convertible with a Parrot Revolution hands free kit and the OEM ipod adapter (now obsolete). I want to have full bluetooth capability, including music and phone. Any idea how to best do that?
07-15-2014, 08:32 AM
---
Hello Weebsty,
For the full MINI Factory Bluetooth kit. See this thread and read up. Its a DIY also. There is the full Bluetooth system and the simple bluetooth system. Simple does not use the center console / armrest / snap in set up.
R53 OEM bluetooth retrofit - North American Motoring
Works on the Hardtop and convertible.
Thanks
07-18-2014, 11:31 AM
Join Date: Feb 2014
Posts: 2
---
Thanks, ECSTuning!
Any shot you have a USB adapter fix up your sleeve also? I have the in-glove box iPod adapter, which is out of date. The new ones have a great center console-mounted one but Mini won't put it in my car.

Weebsty

Sent from my 1.6L supercharged engine
07-21-2014, 08:22 AM
---
You are welcome.
Yes, that's for the newer MINIs, cant just throw it in the older ones and it works.
If you have a newer Ipod / Iphone and the older ipod factory kit does not work. You might be better off going to the aux input and removing the older ipod factory unit. This can be hooked up to any MP# and MP4 player with the audio out cable. See the fitment guide for years.
Aux Input Cable Retrofit Kit part # 82110153367
http://www.ecstuning.com/News/MINI_R50_R52_R53_Cooper_S_Convertible_Aux_Input_Ca ble_Retrofit_Kit_2003_2004_2005_2006_2007_2008/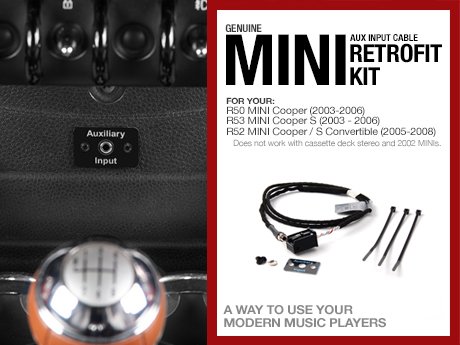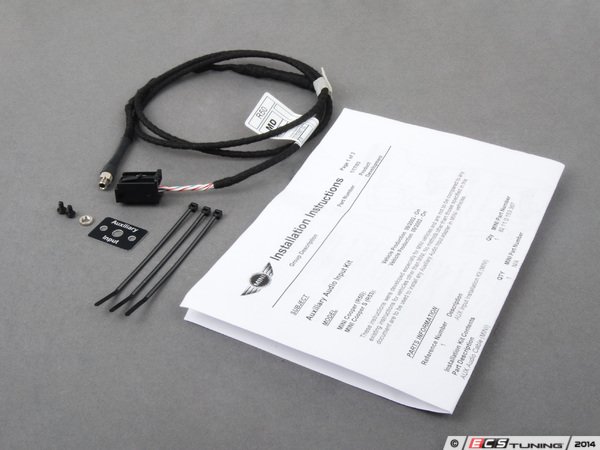 Thanks
Thread
Thread Starter
Forum
Replies
Last Post
07-up MINI Cooper/Cooper S (R56)